The ceiling: 5th wall of a room or 5th wheel of the coach?
Would the Sistine Chapel have as much charm if Michelangelo had not had the courage to paint his fresco with a few contortions? Have you noticed that you often spend more time looking up than in front of you when you visit a castle? Renaissance paintings were followed by the mouldings that made the heyday of Haussmann apartments. And today?
Whether you are planning to renovate a country house or a bourgeois apartment, don't forget to enhance your ceilings! They are new territories of expression and elements to be exploited because they contribute much more than we think to the atmosphere of a place. Even in a modern and stylish space, the ceiling plays a key role! An unjustly neglected space, the ceiling offers countless creative opportunities. Painting, wallpaper, frames, lighting and of course decorative or luminous mobiles, the possibilities to decorate a ceiling are endless by playing on two paintings: the volume and the color. Volume because the ceiling makes sense when it plays on perspectives (see Georges Rousse's anamorphoses in particular). Colour because if white is used (judiciously favoured for small spaces), painting all or part (stripes, dots or geometric patterns) of a ceiling makes it possible to embellish a room, to give it a real personality.
Demonstrations in five acts.
1° For the classic guys – Cute, let's see if the rose…
Your friend Praxiteles has gone on holiday in the Cyclades and you don't know around you a talented craftsman of Michel-Ange? Never mind, King Merlin and his friends have thought of everything: glue a rosace (or several – the accumulation works only the material) to your ceiling and suddenly transform the atmosphere of your interior with one glue! A publisher of original and quality ornaments that we like is Ora Decor.
2° For the do-it-yourselfers – When it comes to ceilings, we fire from the ground up !
For the most DIY enthusiasts and those who want to add a warm and stylish touch to their living room, we recommend the wooden cleats. This cladding creates a very beautiful effect: it brings warmth and geometry to the room. Depending on the finish chosen, it will give a spirit of scandi (natural wood) or indus (painted wood) to your home. The trick is that it involves aligning the cleats properly, knowing how to drill holes without making mistakes… A good amateur of Escher (1898-1972) will advise you to run the cleats from the ceiling to the wall to put your head upside down!
3° For the artists – Georges Rousse will not contradict you.
Whether your space benefits from a high ceiling or the perspective gives you to see several rooms in a row, the color will allow you to play with the volumes and create quite surprising effects.
4° For the sporty ones – A wallpaper that sticks well
Painting does not have a monopoly on the ceiling and wallpaper is not only for walls. With a little imagination (and a lot of stiffness), a well chosen wallpaper will pimper your interior with elegance.
Don't skimp on the quality of the paper and glue chosen, however: it would be a shame to have to do it all over again unless you enjoyed stretching during the first application:)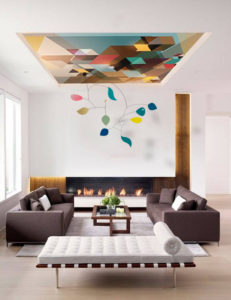 5° For the poets – A whirling motive, of course!
At school, the teacher said about you that you were up in the air? No longer stay in the clouds ! You are the kind of person who looks for inspiration by looking into the void? Fill it up !You think everything is going too fast today? >O time suspend your flight !
So many good reasons to suspend a decorative mobile or luminous in your home. Virvoltan offers a wide range of mobiles that you can customize as you wish without hurting your ceiling since our mobiles are equipped with an adhesive hook as discreet as it is effective!

Discover our range of decorative mobiles or luminous.